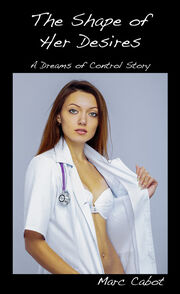 The Shape of Her Desires is the fourth-published Dreams of Control story, first published on Amazon in July 2012.
This tale in the "Dreams of Control" universe introduces the beautiful and brilliant Doctor Jessica Cardwell. All her life Dr, Cardwell has been obsessed with neuroplasticity - the ability of the brain to take in and retain information. She's sure she's found the key to enhancing it a thousandfold, enabling anyone to learn anything perfectly and with ease.
But a chance conversation with Dr. Steve Lange, her protective mentor, leads to the realization that her discovery opens far more doors than she could have ever imagined. Now she needs Steve to watch over her... body and soul!
Meanwhile poor Dr. Lange, who's been infatuated with Jessica since the day he met her, has to deal with his own shocking realization: that Jessica has entrusted him with absolute power over everything she is. The temptation is more than any man should be asked to withstand...
External Links
Edit