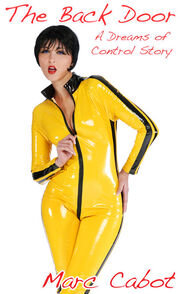 The Back Door is the twenty-first-published Dreams of Control story, first published on Amazon in January 2014.
Back cover text:
Robinette Broadhead, humanoform AI, lives on the fabulous Gateway habitat, experiencing all that the universe has to offer. When Sam Kahane, a young coding student with a mysterious project, asks for her help, she's happy to oblige. But it turns out that she's not just helping with the project, she is the project. And Sam's discovered that the key to the beautiful body her artificial intelligence rides around in is a long lost "back door" hidden deep in Robinette's mind. What it allows him to do to her has to be seen to be believed…
This is the first Dreams of Control story not set in the present day, and the first to feature a robot.
Many incidentals in the story are tributes to Frederik Pohl's classic science-fiction novel Gateway, including:
1) The name of the habitat. (In the novel, Gateway is not a human-created space habitat, but it is a large facility in space where humans eventually come to live after discovering it.)
2) The names of the principal characters, which are transposed from the names of two main characters in the books.
3) The code Sam uses to activate the back door is the same string of nonsense words that put Sigfried, the AI psychotherapist from Gateway, into passive display mode.