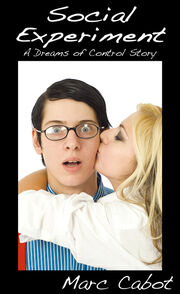 Social Experiment 
is the thirty-second-published 
Dreams of Control
 story, first published on Amazon in October 2016. It is the sixth book in the "Little Black Box" series and the sequel to
Thrashin' Thursday (Little Black Box)
.
It's just another school day for Robert... until the man with the Little Black Box comes into his life! Now the eighteen-year-old geek (and virgin) is getting lessons in sex from gorgeous Principal Chalmers while his secret crush Jenny is tutored by the mysterious man. It's all part of a "social experiment" designed to see what giving the brilliant Robert a lovely, willing girlfriend will do for his academic career.
And if the experiment goes well, he'll only be the first of many bright young men gifted with an endless supply of sex, courtesy of the Little Black Box!  (Mind control, maledom, teaching)
This is the first "Little Black Box" book not to refer to a day of the week in its title.
External Links
Edit