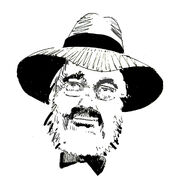 Marc Cabot is the author of the Dreams of Control stories and other works.
About the Author
Edit
Marc Cabot is a trained hypnotherapist as well as an experienced erotic hypnotist. Erotic mind control has always fascinated him.
Originally, the Dreams of Control stories began as a series of photostories. As the scripts for the photostories became more and more elaborate, they turned into Maestro, the first novel-length story in the Dreams of Control universe. Ever since, the world of Dreams of Control has been getting bigger, and sexier. Not everyone succumbs to its dark call... but no one who lives there is ever quite the same once they feel its power.
Cabot's blog can be found at http://www.dreamsofcontrol.com, and his Amazon author page is located here: Marc Cabot's Amazon Author Page.