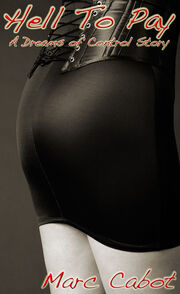 Hell to Pay is the eleventh-published Dreams of Control story, first published on Amazon in December 2012. It is the first book in the "Hell to Pay" series.
When adventurous Simon Marshall is picked up in a Prague nightclub by the beautiful Irena, all he wants is to get lucky. He does... but his luck is that instead of Irena killing him and stealing his soul, she leaves him with the knowledge that he's a real magician and a handful of ancient spellbooks. 
The books offer the promise of unspeakable power and unimaginable pleasure, most of it embodied in Lily the succubus. Her charms are irresistible but if he wants to sample them, he'll have to make a deal. She may be easy, but she isn't cheap. And the price is beyond imagining...
Connections to other Dreams of Control StoriesEdit
We first learn that magicians can summon demons in the Dreams of Control universe in A Matter of Trust. Simon and Lily's story is further expanded upon in the "tweenquels," Hell to Pay: Halloween Dreams and Hell to Pay: Carnival of Lust, which take place during the events of Hell to Pay.
External Links
Edit