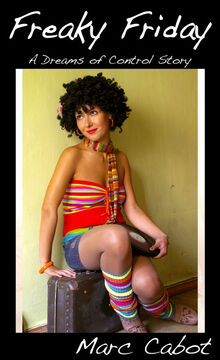 Freaky Friday is the twenty-sixth published Dreams of Control story, first published on Amazon in February 2015. It is the third book in the Little Black Box series. It follows Massage Monday and is followed by Stage Show Sunday.
The mysterious man with the little black box is back, and this time he's visiting the best Friday night rave in town, affectionately know as "Freaky Friday" by the people who go there to dance the night away. Abba, the tightest little ravergirl in the club, loves the flashing lights he's got in his clothes to make the rave a little more trippy, and when he shows her the Little Black Box, she's just blown away.
Soon more and more people are experiencing the Little Black Box, and the next time Abba's favorite disco tunes start playing, the rave gets downright dirty. But that's nothing compared to how dirty Abba herself starts to feel when Flash takes her back to his hotel room and really makes her let loose. She'll do anything for him, she'll do it hard, and she'll do it all night long!
(Erotic Mind Control, Maledom)
The man with the little black box shocks Abba by referring to "twelve at once." This is a reference to Sorority Saturday.
External Links
Edit